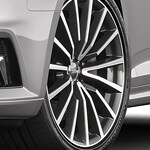 An entrancing automotive revolution is certifiably in motion thanks to the chic Audi A5 Coupe. This fine-tuned spectacle exudes stalwart character alongside lofty ideals. Ultimately, contemporary vehicular enticements have reached a new peak of glory with the charming might of this iconic luxury ride.
Brighten up the streets of Massapequa, NY with a sparkling new persona thanks to the tantalizing LED lighting. With 30 compellingly colorful shades, your exact mood can be instantly reflected via a brilliantly customized interior illumination. These gorgeous emanations instill serious expressiveness in the process of generating your personal ambiance.
Cyber allure is part of the package too, and the glistening virtual cockpit delivers dazzling technological displays. Modern bliss is cultivated by advanced layers of digital connectivity. The profound software integration ushers unprecedented confidence and convenience. Audi Massapequa can highlight all of the extravagant gadgetry during a test drive, so come on down to see the magic that Audi is offering.